Tony Ortega: A History of Deceiving Readers
As a blogger and tabloid source, Ortega seeks attention by fabricating content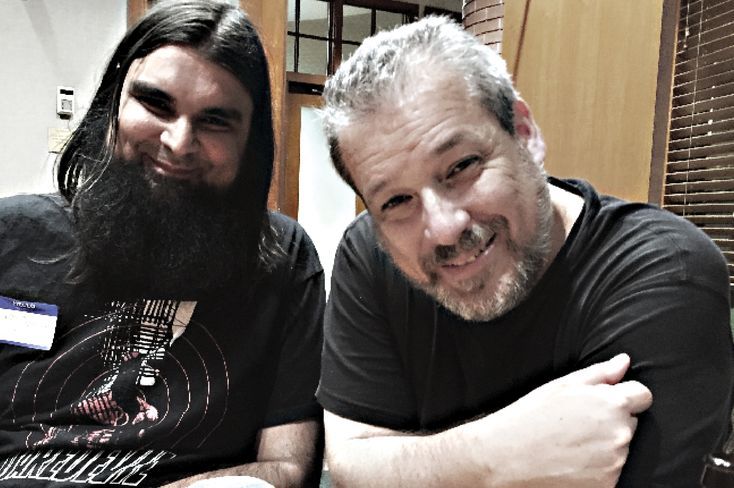 Any reader understands the difference between news, satire, and being intentionally scammed. News reports facts. Satire uses humor to invite critical judgment of sociopolitical folly or contradictions. Scams—when false information is reported as "news" and justified as satire—are simply scams.
Legitimate news sources take care to ensure that the reader understands the difference in presenting content. By failing to do so, they cross the line into intentionally misleading readers.
Tony Ortega has been crossing this line for more than 20 years. An unemployed blogger subsidized by anti-Scientologists to post bigoted, false and inflammatory rhetoric about the Church of Scientology and its members, Ortega's tradition of manufacturing content and misleading readers dates to his earliest days of masquerading under the heading of "journalism."
Reader Backlash
In January 2003, while at Phoenix New Times, part of the New Times, Inc. chain of free alt weeklies owned by Ortega's bosses James Larkin and Michael Lacey, Ortega wrote a piece under the pseudonym Rubén Oman. He invented an "exposé" about the construction of a $355-million sports stadium in Glendale, Arizona, that was scheduled to start within days. The facility, touted as one of the most modern in the country, was to become home to the National Football League's Arizona Cardinals.
But before that project could get off the ground, Ortega "reported" that local officials had to overcome objections from "a national environmental consortium" seeking temporary restraining orders to halt its construction. The reported reason? To protect a number of desert tortoises discovered on the site. As Ortega's story went, tortoises were protected by state and federal laws placing restrictions on their removal from their natural habitat.
Unbeknownst to his readers, the entire story was invented, including Ortega's false allegations that Cardinals owner Bill Bidwill had conspired to circumvent laws by removing the tortoises in the dead of night. Not coincidentally, Ortega's swipe at Bidwill followed the editorial line set by his boss Michael Lacey, who had described the Cardinals' owner as "the most loathed person in sports."
Following publication, local environmental groups received calls from people wanting to help, unaware they were being scammed. Glendale city officials contacted the Arizona Department of Game and Fish for guidance on procedures to relocate the tortoises. Channel 3 had to retract a news story it broadcast based on Ortega's fraudulent article.
New Times and Ortega response? "Your hearts are absolutely in the right place. Even if, and [we are] sorry to have to break this to you, your brains are not. People: It was all a joke."
The backlash came quickly.
"Frankly, I am stunned, offended, feel deceived and victimized by such a fiasco, not to mention complete loss of faith in New Times' credibility," wrote one outraged reader. "In my estimation, you are relegated to 'scandal sheet' mentality by publishing such a libelous article."
"I'm sure this doesn't really matter to anyone on your staff," said another, "but now I've learned not to take any of your journalism seriously. Bravo!"
Insulting Readers to Get Attention
If Ortega learned any lesson from intentionally deceiving readers, it was that it worked as a strategy to get attention, and he doubled down on it.
This time the hoax involved a 2005 story in The Pitch, another New Times, Inc. publication, in Kansas City, where Ortega's bosses had dispatched him. In this Ortega story, also presented under a fictitious name, Cesar Oman, workers at the site of what was planned as a new sports arena in downtown Kansas City had uncovered six gravesites containing the remains of Confederate soldiers.
Fictitious documents "obtained" by Ortega and reviewed by a "history professor" generated the comment: "What you're showing me doesn't just mean they've made a significant historical discovery. It also means the sports arena is in serious jeopardy. Unless of course, the city can work something out with Confederate interest groups."
The story, published two days before the arena groundbreaking, alleged discovery of the graves had "thrown Kansas City and the state of Missouri into a crisis" because demands by Confederate heritage groups to co-opt the arena as a memorial to the fallen soldiers could halt construction. The article included supporting quotes from anonymous city, county and state officials, and passages from a mayoral memo.
It was all an invention.
A story in the Kansas City Star subsequently reported that officials at city hall were fielding calls from readers confused by the story. The city manager had to issue a news release assuring the public "there is no truth to this story."
A professor of media ethics at the University of Kansas criticized "things that are deliberately false being put in the paper."
The press secretary for Missouri Governor Matt Blunt issued a statement in response to a concocted quote in Ortega's story in which an imaginary "county employee" smeared Blunt.
"The article is not only fictitious, it is also offensive," the press secretary said. "The paper should immediately identify the article for what it is and apologize to its readers."
A spokesperson for Sprint Corp., which had pledged continued funding to have the arena named "Sprint Center," said, "We think it is irresponsible for The Pitch to bring attention to itself through such an egregious hoax."
Ortega again insulted readers' intelligence, blaming them for failing to recognize the article as a hoax.
To those asking why Ortega would be "inventing a 3,500-word fabrication," his answer was, "Why the hell not?"
Citing Ortega's "adolescent" excuses, Columbia Journalism Review censured the hoax. "Let us count the ways in which this is wrong," wrote Edward B. Colby. "It was bad enough that the spoof took cheap shots at politicians, put words in their mouths, and betrayed readers' trust at a time when the media's credibility is at an ebb. But the official explanation—that the Pitch raised 'Rebel Hell' just because it could—is simply inexcusable."
"There is a place in journalism for both smart social commentary and an irreverent take on local buffoonery in office," Colby further wrote. "But fooling your readers and then hooting at them for being fooled, qualifies as neither."
"Merciless Mercenary"
Ortega's perverse desire to attract attention ultimately backfired on him.
His zeal for creating false content was no object to his bosses, the New Times, Inc. owners Larkin and Lacey. In a 2005 letter, Ortega wrote of the two men, "My corporate cookie-cutting overmasters have parachuted me into four of their newspapers in five different stints…like the merciless mercenary that I am."
In 2007, Larkin and Lacey finally dropped Ortega into The Village Voice, the flagship paper in their reorganized chain of alt weeklies under the umbrella of Village Voice Media (VVM). The vast majority of VVM's revenues, and Ortega's paycheck, were generated through VVM's classified ads website, Backpage.com. The site became the world's leading online purveyor of sex trafficking victims, including children.
When effective campaigns by advocacy groups, including the Church of Scientology, prompted public exposure and official investigations of Backpage, Ortega churned out hit pieces on those who threatened VVM's cash cow. He authored hundreds of anti-Scientology blogs on the Village Voice website, but in 2012 his bosses had to let him go as his obsession attracted too much attention and drew too much scrutiny of their operation.
Ortega may have lost his overmasters, who now face criminal charges related to the since-shuttered Backpage.com, but he is still a mercenary. Through a blog funded by anti-Scientologists, notably a former mistress-for-hire who is notorious for bragging that she "owns" him, Ortega continues his tradition of deceiving readers through false, manufactured content.
To those who might be tempted to buy the titillating content and vicious innuendo Ortega pushes out in the hopes it gets picked up by tabloids, the adage applies: "Let the buyer beware."