"Backpage Tony" and His Scar of Shame
As Ortega's former bosses head for trial in summer 2023 on a 100-count grand jury indictment, his role comes back to haunt him—no matter what hush money he was paid.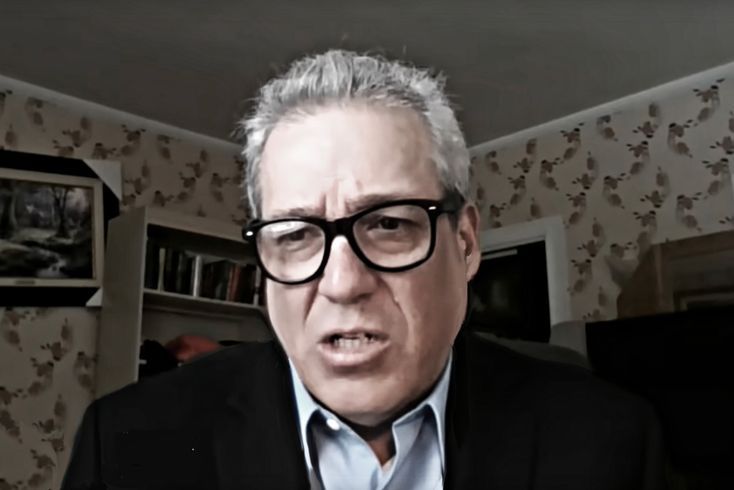 Tony Ortega has a Backpage.com problem he will carry through life as surely as the scar on the face of one of the innocent children he helped send into the arms of vicious sex traffickers.
Backpage.com was the notorious online classifieds site owned by Village Voice Media—publisher of New York alt weekly newspaper The Village Voice—that advertised sex for sale. Its listings featured many underaged girls forced into sexual slavery with the help of ad sales guidelines imposed on Ortega's watch as editor of The Village Voice.
Ortega fiercely defended the criminal enterprise that resulted in children being scarred for life by sexual exploitation.
"The whole point of Backpage.com is that we aren't involved after two consenting adults find each other through the community bulletin board," he said on behalf of the operation in one of his endless deceptions. "[Backpage] exists solely so that people can freely express themselves, sometimes in ways that make other people uncomfortable."
Those who grew uncomfortable with Backpage.com include the FBI, members of Congress and investigative committees, state attorneys general, numerous celebrities, outraged clergy, human rights activists and a host of reporters. They all denounced the unconscionable operation that at its height raked in more than a hundred million dollars a year and was ultimately shut down in 2018. Backpage principals await trial on a long list of criminal charges.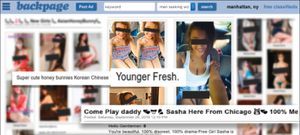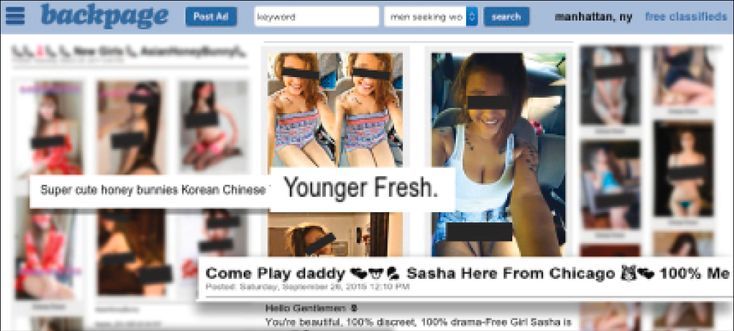 The backlash against Village Voice and its sordid revenue stream gained momentum through on-the-ground protests and online activism that made available to reporters, investigators and legislators the mounting record of criminal conduct and arrests related to minors trafficked through Backpage.com. The Church of Scientology was instrumental in shedding public light on Tony Ortega as a chief enabler through his role with Village Voice Media's flagship newspaper.
Ortega's "small number"
Ortega replied to one activist who asked for his comment on the ethics of The Village Voice taking ads for sex trafficking: "Yes, we take 30 million ads a year from users at our Backpage.com website," he first confessed of his complicity in the operation. Ortega then incredibly censured the victims—children—for defying Backpage rules: "Recently we've come under attack because a small number of those ads involve underage users who violate our terms of use [emphasis added]."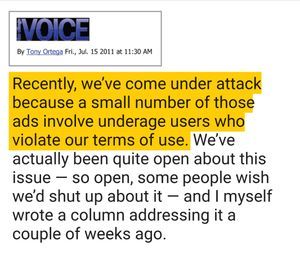 Ortega's "small number" of dehumanized "underage users"—children trafficked by pimps through Backpage—included the 14-year-old in Atlanta forced into sex slavery by a pimp who regularly beat her and also forced her to "work" when pregnant with his child; the 13-year-old in Miami whose pimp tattooed his street name on her eyelids; and the 13-year-old in New York whose pimp kicked her down a stairwell and, although she was hurt and bleeding, sold her to his next client on Backpage anyway.
Investigators were ultimately able to put realistic figures behind Ortega's "small number" of minors trafficked through Backpage.com. FAIR Girls, a Washington, D.C., victim support group that had served over 20,000 young people, reported: "Virtually all of FAIR Girls' clients—including some as young as eleven—have at some point been sold through Backpage.com."
The National Center for Missing and Exploited Children reported that Backpage was responsible for 73 percent of all child trafficking reports they received from the general public.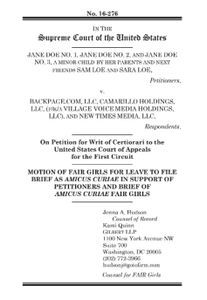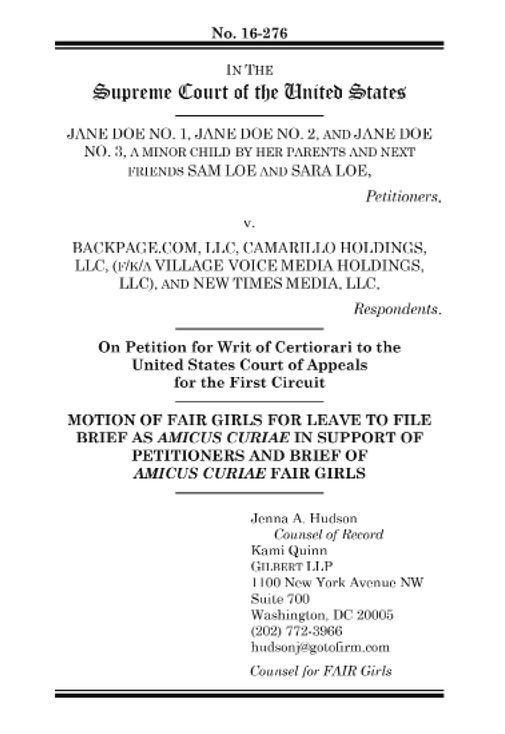 Ortega's "small number" and his continual attempt to minimize child sex trafficking leave his fingerprints on the sleazy progression of sin that created a $600-million empire and ended in countless shattered lives.
Ortega riding shotgun
Ortega's role began in 1995 when he was hired by the men behind the Backpage saga, James Larkin and Michael Lacey, owners of the Phoenix, Arizona-based New Times, Inc. alternative weekly tabloid newspaper chain. From 1995 to 2007, Ortega worked for Larkin and Lacey as writer or editor in Phoenix, Los Angeles, Kansas City and Fort Lauderdale.
"My corporate cookie-cutting overmasters have parachuted me into four of their newspapers in five different stints…like the merciless mercenary that I am," Ortega bragged after landing in Fort Lauderdale in 2005.
Ortega's overmasters, Larkin and Lacey, had launched Backpage.com in 2004 with Carl Ferrer. Previously the classified advertising director with the Dallas Observer, Ferrer became vice president and later CEO of the online enterprise. In 2005, Larkin and Lacey purchased The Village Voice and reorganized their business. What had been the New Times company became Village Voice Media Holdings (VVM). The Village Voice, the New Times papers and Backpage.com all came under the VVM umbrella, and Backpage became the major revenue source for VVM.
In 2007, Ortega was picked by Larkin and Lacey to become editor of The Village Voice, the most well-known publication of their print media chain. The "merciless mercenary" was well aware of where his salary was generated.
"The people I work for were smart enough to start Backpage.com, a competitor to Craigslist," Ortega later boasted of his employers.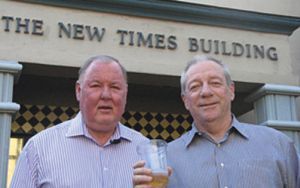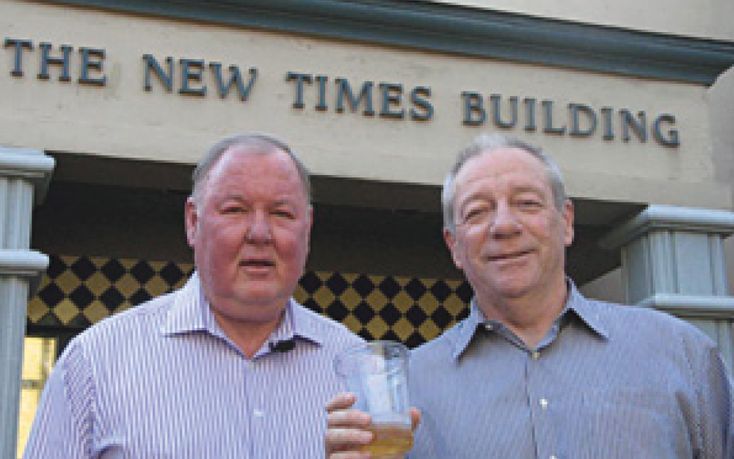 In 2010, online classifieds giant Craigslist shut down its sex ads after a young woman was murdered in Boston by a man who answered her online "masseuse" ad.
With Craigslist out of the sex ads market, clientele migrated to Backpage.com. The site was on its way to becoming the world's largest online hub of sex trafficking. And Ortega, editor of the flagship VVM publication, was riding shotgun for his overmasters as public and official scrutiny inevitably turned from Craigslist to Backpage.
According to an interview published in Wired magazine in 2019, Michael Lacey shunned advice from hired counsel to join an effort against child trafficking led by actor-activists Ashton Kutcher and Demi Moore. Instead, Lacey instructed The Village Voice (as in, chief editor Tony Ortega) to publish an article discrediting statistics and estimates on child sex trafficking.
Ortega complied. The article ridiculed campaign ads by the Demi and Ashton Foundation, designed to curb child sex exploitation, as "fatuous and silly" and attacked statistics. Ortega accompanied the article with an editorial in which he decried a September 2010 U.S. congressional hearing, which had followed from the Craigslist murder scandal, as "absurdist theater." He argued that pimping of females on Backpage, regardless of child victims, should be constitutionally protected.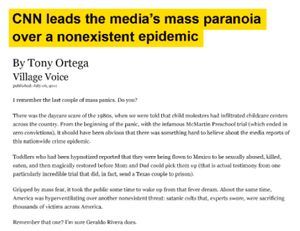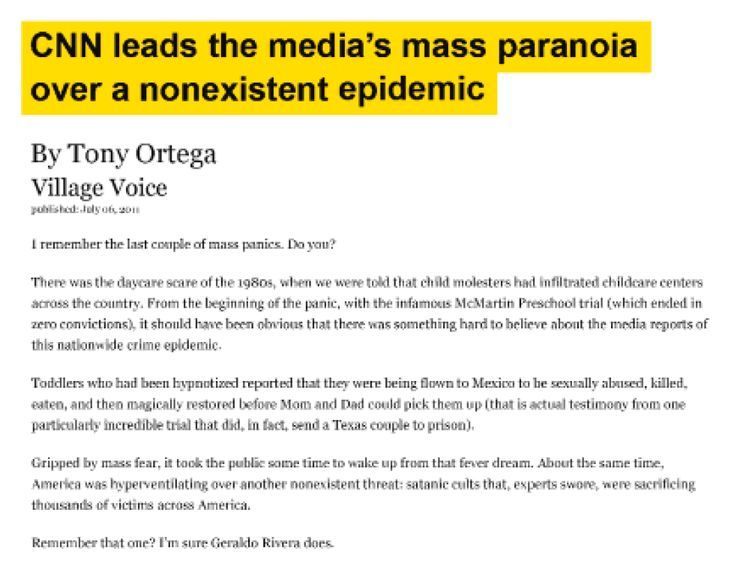 "The First Amendment was shouted down in the name of children," Ortega wrote. "Having run off Craigslist, reformers, the devout, and the government-funded have turned their guns upon Village Voice Media….It is true that Village Voice Media has a stake in this discussion. But the facts speak for themselves."
Those facts spoke of the ever-increasing evidence of Backpage facilitating the child sex trade—including facts presented in national CNN reports in early 2011. In one, reporter Amber Lyon focused on a girl, age 13, who was sold for sex on Backpage. Ortega responded by berating Lyon for stoking a "mass panic" on par with the "non-existent threat [of] satanic cults" of the 1980s. The widespread problem of sex trafficking of young females was a "national fantasy," Ortega declared, "grounded in bogus information."
Ortega went beyond that. New York Times columnist Nicholas Kristof wrote of the "record of Village Voice using journalistic tools to go after critics." That record included, "When Amber Lyon of CNN aired a piece about a 13-year-old girl trafficked on Backpage, Village Voice went after her and even published a piece in an affiliate in her hometown."
Ortega's indictment
Tony Ortega continued to earn his cut by smearing critics of Backpage and invalidating public outcry, defending the indefensible with deceptions.
Yet Ortega's role was about much more than propaganda, according to the late Wayne Barrett, a 37-year veteran Village Voice journalist Ortega fired in December 2010.
"Village Voice was always financially dependent on its ad sales, particularly the sex and apartment-listing ads," Barrett said, months after his firing, in an interview with an investigator for the Church of Scientology Freedom magazine.
But, Barrett said, "changes made by Ortega to the ad sales form have allowed the underaged [sex] ads to flourish."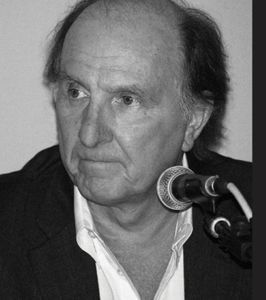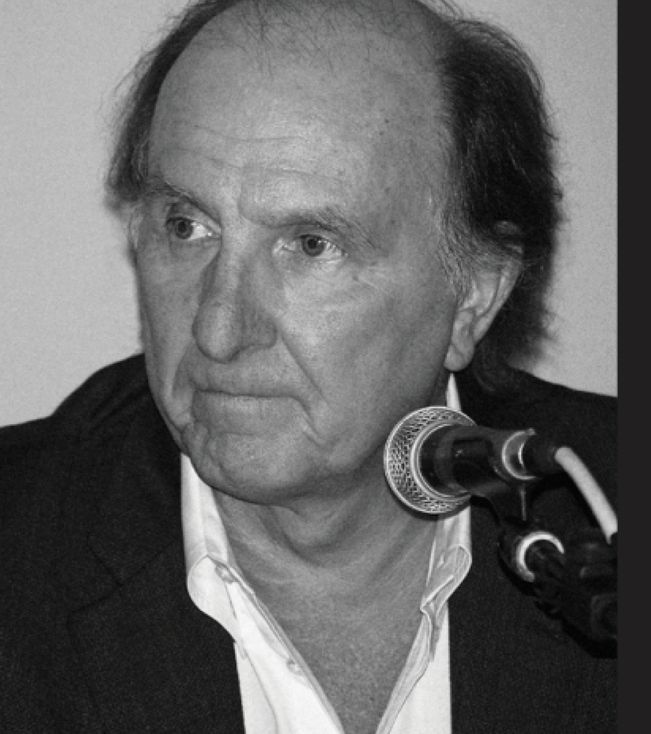 In a single sentence, Barrett packed an indictment of Tony Ortega with potentially sweeping implications that would not come to light until January 2017. At that time, the U.S. Senate Permanent Subcommittee on Investigations released a report containing the results of its 20-month investigation into Backpage.com: "Backpage.com's Knowing Facilitation of Online Sex Trafficking."
The damning, 900-page report documented how Backpage, rather than turn down ads selling children for sex, instituted a filter to automatically strip commonly used terms for minors out of ad sales forms submitted by advertisers—often pimps—while staff manually edited out variations.
In this way, slang terms for underage girls like "Daddy's girl," "fresh" and "Lolita" were stripped out to obscure the true nature of the proposition, and the ads were allowed to run. By Backpage.com's own admission, the report said, company staff edited "about 70 to 80 percent" of the ads in the "adult" section.
Detailed evidence from the investigation further showed that while Tony Ortega was haranguing media exposing Backpage and decrying the "national fantasy" and "mass paranoia" of child sex trafficking, his VVM colleagues were quietly covering their tracks.


In their report on Backpage.com, Senate investigators made reference to the February 2011 CNN story about the 13-year-old girl who was sold for sex on Backpage. The CNN piece had noted that "suspect ads with taglines such as 'Daddy's Little Girl' are common" on Backpage.com. Following the exposé, "[VP Carl] Ferrer's remedy was to email the CNN story to [site operations manager Andrew] Padilla and instruct him to add 'daddy' and 'little girl' to the 'strip out' filter."
Ortega's obsession
The sanitizing of ads to cover up criminal activities did little to stem the growing spotlight on Backpage and the escalating wrath from both public and government sectors.
In 2011 and 2012, Backpage and Village Voice Media were facing demands to shut down their illicit sex market from multiple quarters—including a joint letter signed by 51 state attorneys general; a full-page ad in The New York Times from 36 prominent clergy; protests outside the Village Voice office in New York by human rights and religious organizations; and a protest specifically against its editor in chief Tony Ortega when he showed up to speak at his alma mater, Cal State Fullerton in California.
Following from a boycott movement led by human rights activists, several dozen advertisers—from American Airlines and AT&T to REI, Starbucks and U.S. Bank—cut ties with Village Voice Media.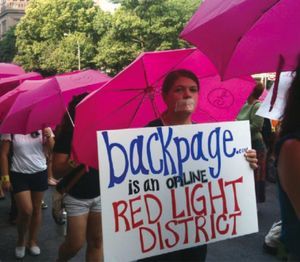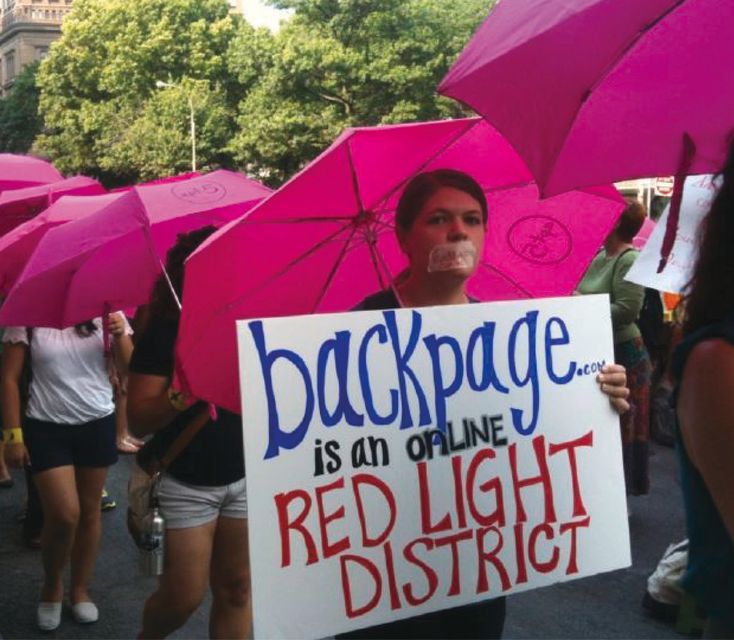 Defending the criminal enterprise and its obscene profits to the last, Ortega had the apparent restraint to not let loose on investigating authorities. Instead, he unleashed what multiple Voice staffers called an "obsession" against his vocal critic, the Church of Scientology—writing 465 scurrilous blog articles, many containing multiple entries, over a 16-month period from 2011 until he was ousted from the Voice in 2012.
As one former Voice staffer complained to the New York Observer, Ortega "was increasingly obsessed with Scientology and had neglected almost all of his editorial duties at the paper. Sometimes he wouldn't even edit features."
Ortega could afford to neglect the editorial side of business. By 2012, Backpage was generating over $50 million a year for Village Voice Media.
"Backpage suggests that it is battling censors and prudes," wrote Nicholas Kristof in The New York Times in January 2012. "In fact, what drives it seems to be greed."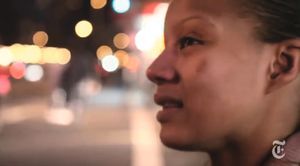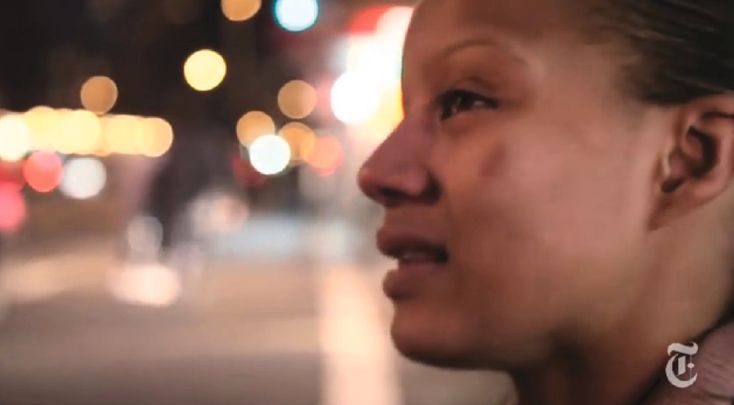 Kristof shamed the site in two columns early that year: one characterizing them as choosing profit over propriety; the other the story of a 16-year-old girl who was sold from one pimp to another for roughly $10,000 each time and was repeatedly sold for sex on Backpage.com.
That girl, who requested anonymity, had a scar on her face where a pimp had gouged her with a potato peeler as a warning. She said she was forced into "working" for pimps seven days a week, 365 days a year. When she tried to escape, a pimp tracked her down and beat her up, with the assistance of other girls who worked for him. She was stomped on and punched, left with a broken jaw and several broken ribs. The attack led her to cooperate with police who focused on Backpage.com ads.
Kristof wrote of another girl, 15, who had been kidnapped and locked in an empty house in Long Island. There, she was drugged, tied up, raped and then advertised on Backpage. After a week of being sold for sex, she escaped and was also working with police.
Several months later, U.S. Representatives Carolyn Maloney and Jerrold Nadler, representing districts in The Village Voice home turf in Lower Manhattan, issued a joint letter to Village Voice Media. "Given the magnitude of the business done by Backpage.com involving trafficked persons, it is hard to believe that your controls are as comprehensive as you claim."
The letter referenced a report from the National Association of Attorneys General, which cited more than 50 instances in 22 states of charges filed against those trafficking or attempting to traffic minors on Backpage.com.
The representatives wanted no more explanations: "Too many children and too many trafficking victims have been sold on your website for us to accept any more excuses."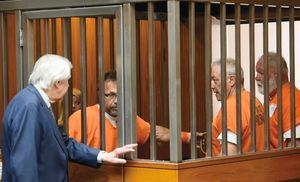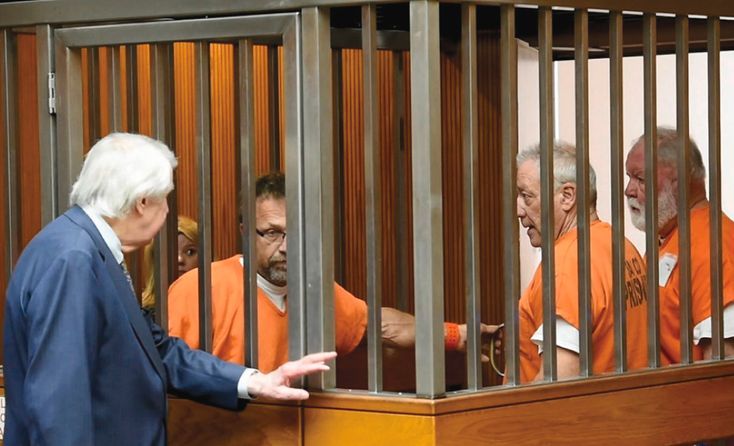 Ortega's self-incrimination
The excuses Ortega offered came to an end in September 2012 when Larkin and Lacey prepared to sell off VVM's print media, including The Village Voice, and reorganize the rest of their operation. Ortega was shown the door, albeit reportedly with two years' salary as a payoff for his silence.
Lacey and Larkin maintained shareholder control of Backpage.com, breaking it off from VVM with Carl Ferrer as CEO. Backpage.com continued its criminal trade, although its principals were living on borrowed time.
In October 2016, Michael Lacey, James Larkin and Carl Ferrer were arrested on felony charges including pimping and conspiracy to commit pimping. After a legal battle, they were re-arrested in April 2018 on new charges of facilitating prostitution and money laundering.
On April 6, 2018, Backpage.com was seized by the FBI.
On April 12, CEO Carl Ferrer pled guilty in California to one count of conspiracy and three counts of money laundering for his role in handling tens of millions of dollars earned by Backpage. Ferrer also agreed to cooperate with prosecutors against partners Larkin and Lacey.
On July 25, 2018, a federal grand jury in Arizona indicted Lacey, Larkin and five Backpage operators on 100 counts, including conspiracy, facilitating prostitution, and money laundering. On August 17, one of the defendants, Backpage sales and marketing director Dan Hyer, pled guilty to conspiring to facilitate prostitution.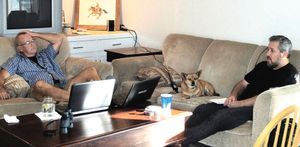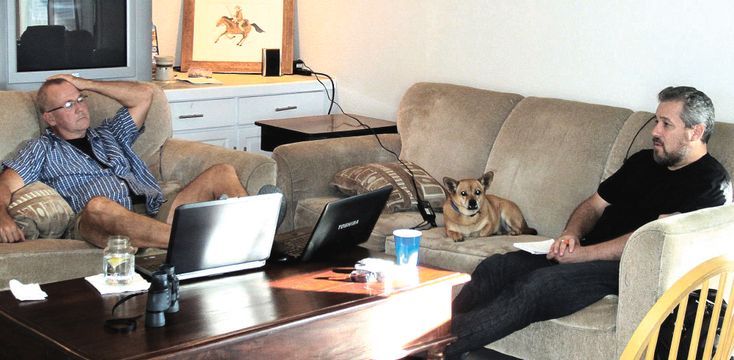 Ortega had slipped out the door before the law managed to round up all the suspects, but following his ouster from The Village Voice, he incriminated himself.
Upon his firing in September 2012, Ortega flew to Texas to see Mark "Marty" Rathbun, the unofficial leader of a cadre of expelled former Scientologists, who had become a source and confidant to Ortega at the Voice.
In 2017, Rathbun posted a video on YouTube which left no doubt as to Ortega's role in the now-shuttered criminal Backpage enterprise.
Rathbun recounted that Ortega told him "this can't go anywhere" and proceeded to confide how Scientology had been exposing the child sex trafficking being run through Backpage ads, and the consequences.
"He [Ortega] said the problem is that Scientology was more accurate than anybody thought," Rathbun said. "And that in fact, The Village Voice was almost exclusively financed by that human trafficking operation and that there were profits beyond that."
The owners had decided they needed to get rid of Tony Ortega, Rathbun relayed, because Ortega's obsession with Scientology—which he indulged in through hundreds of Village Voice blogs—was keeping the Church's focus on him and the illicit Backpage operation. "So, in order to do that, and to extract his cooperation in keeping quiet about what he knew…he [Ortega] literally agreed to cover it up and obstruct justice for a payout of essentially a two-year buyout deal."
The attack dog for Village Voice Media and its criminal Backpage.com enterprise accordingly went silent, uttering not a word while his former overmasters and livelihood collapsed in criminal ill repute.
Ortega, however, tried one more excuse to defend himself from accountability in the sordid history of Backpage exploitation. In October 2017, a commenter on his blog asked for clarification of a statement Rathbun had made about The Village Voice being funded by sex ads.
The "merciless mercenary" tried to cover his tracks with a new deception that he was merely the editor in chief and had nothing to do with "the business side." The same mercenary who, while still in his overmasters' employ, admitted, "Yes, we take 30 million ads a year from users at our Backpage.com website."
It is a deception that is as easy to strip away as it is for a potato peeler to slice open the face of a teenage girl. It is a deception that will not erase the shame Backpage Tony will carry as long as the scar remains on the face of that young woman. And that's a long, long time.